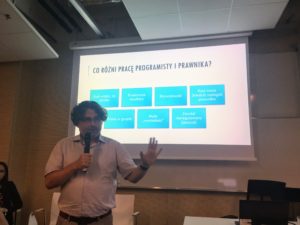 Yesterday we held another meeting of LegalTech Polska.
Przemysław Polański presented in his colorful way his vision of the development of electronic legal information systems in Poland resulting, inter alia, from the specificity of the Polish way of legislation.
Ireneusz Matusiak shared with us the first results of his analysis of the relationship of copyright to the results of work of the second generation Artificial Intelligence engines, which sparked heated debate about future regulation in this regard.
We then had an interesting panel on whether programming skills could be useful for lawyers. Both Karolina Gałęzowska and Przemysław Polanski confirmed its usefulness in spite of various experiences and starting points each of them had.
Justyna Matuszak-Leśny also related to the topic in her presentation on blockchain in the legal services, where she showed how could an insurance contract look like when written into a smart contract.
After the presentation, there was an hour of discussion with all the speakers and participants.
As a minor request to the participants of the meeting, we would appreciate you completing the questionnaire:
https://goo.gl/forms/EewJzHsze4TEzDKC2
We would like to gather the impressions of the first meetings of LegalTech Polska as well as the expectations of these meetings.
Another meeting will be held in September, although we still think about meeting in a more relaxed atmosphere during the holidays.